Technology
The FOILER's four patented foils have been designed to provide auto-stability and ensure a very comfortable ride by removing the movement generated by the waves' impact on the hull.
The foils and rudders provide an amazing grip in the water that gives the FOILER the ability to turn like no other boat. With the FOILER, you have a two-in-one: a very comfortable and luxurious yacht with the performance and handling of a super-car.
Retractable foils
The foils are fully retractable. With this patented system, the FOILER switches from foiling mode to Archimedean mode in a few seconds.
When moored or at the harbour, the foils and torpedoes are entirely out of the water. That way they stay dry and clean, thereby reducing the maintenance.
Waves master
In the FOILER, you fly 1.5m above the sea. Therefore it masters rough weather seamlessly whereas a regular yacht will slam into the waves.

This ability to fly above the water allows you to sail in comfort at full speed while regular boats have to slow down as they slam the waves.

FOILER's smooth ride will enable you to drive at maximum speeds, even during rough seas. Its smoothness, comfort, and stability not only makes the FOILER much safer than regular boats, but it also eliminates seasickness.
Mechanics
The two turbo diesel V8 engines (1) drive the hydrostatic power train (2), which then, in turn, drives the powerful torpedoes (3).

This professional grade marine propulsion provides power, efficiency and flexibility. It allows the delivery of power to the torpedoes in both Archimedean mode (when the foils are retracted) and in Foiling mode.
1

Turbo V8 diesel engines

2

Hydraulic power pipes

3

Hydraulic torpedoes

4

Retractable foils

5

Retractable rudders

6

Hydraulic retractable foils system

7

Hydraulic retractable rudders system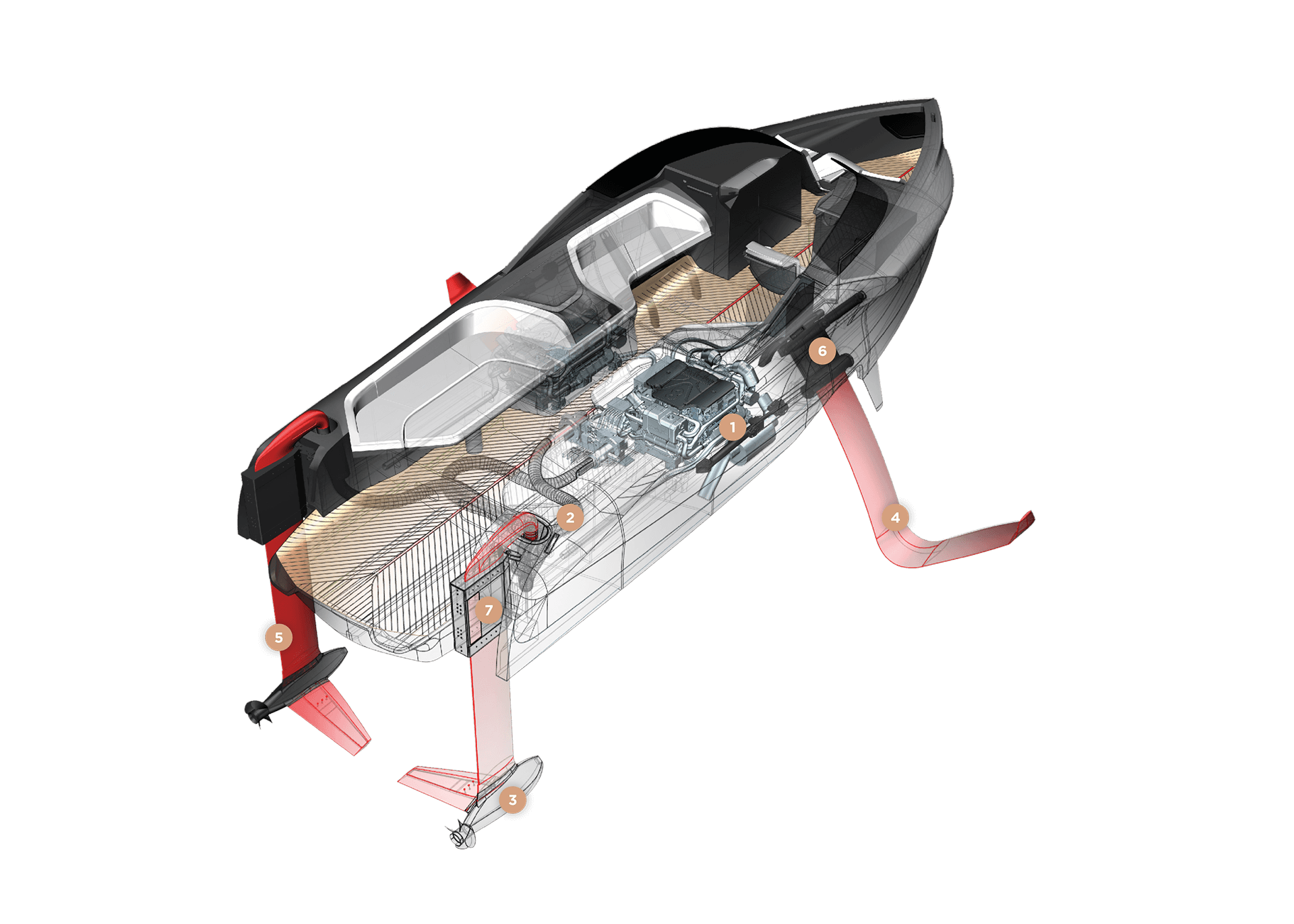 Feel the urge to fly?
It isn't a dream anymore. For the new generation
of sailors, we are building your FOILER.