Wingman
Wingman is the Foiler's fully integrated management system. It gives the owner an intuitive and smooth customer experience, as well as full control and monitoring over all aspects of the Foiler.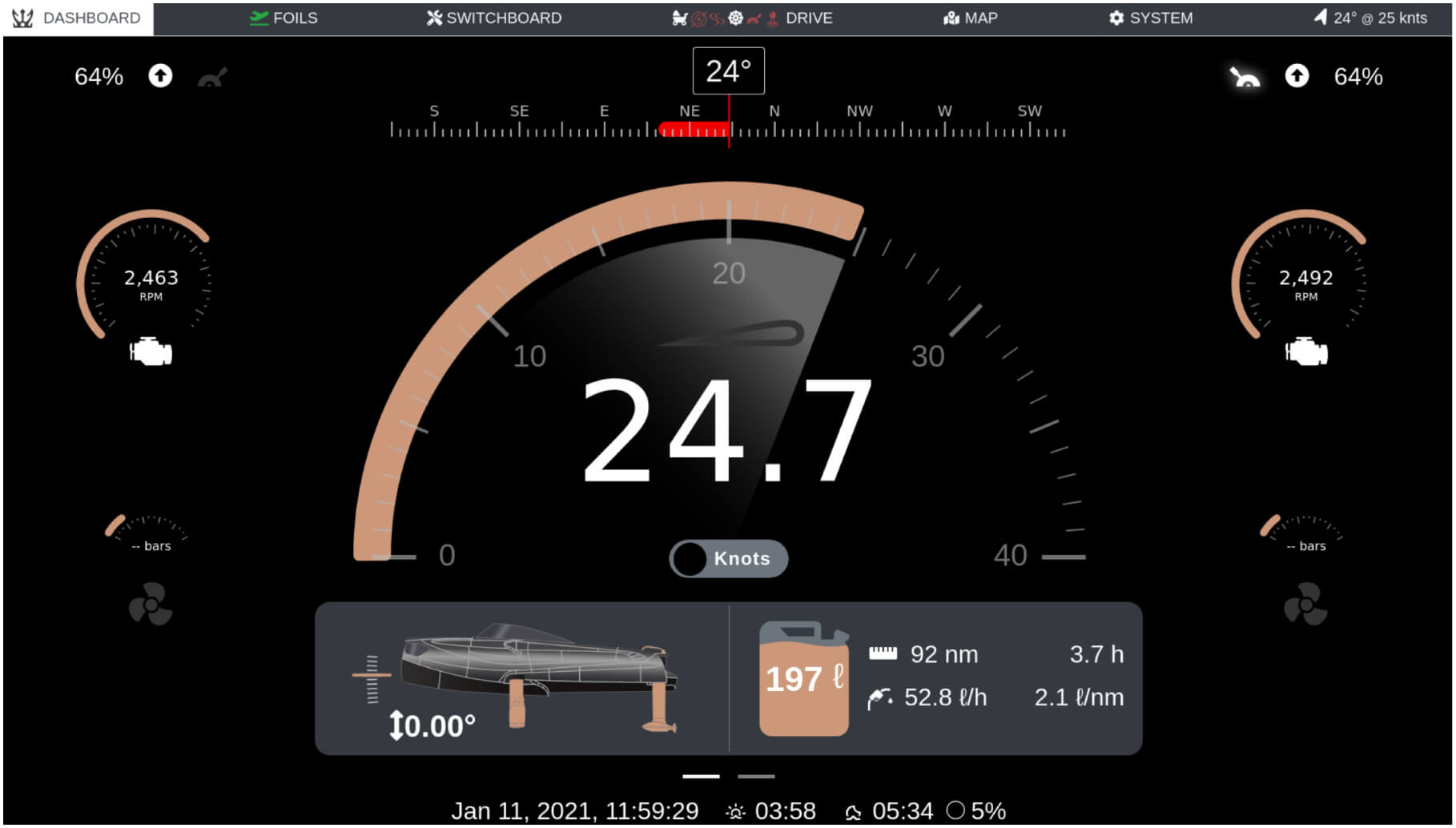 DASHBOARD
The dashboard displays the key information in an elegant and ready to read format. Here you will see the Foiler's speed, heading, throttle %, RPM, fuel, autopilot activation, and more.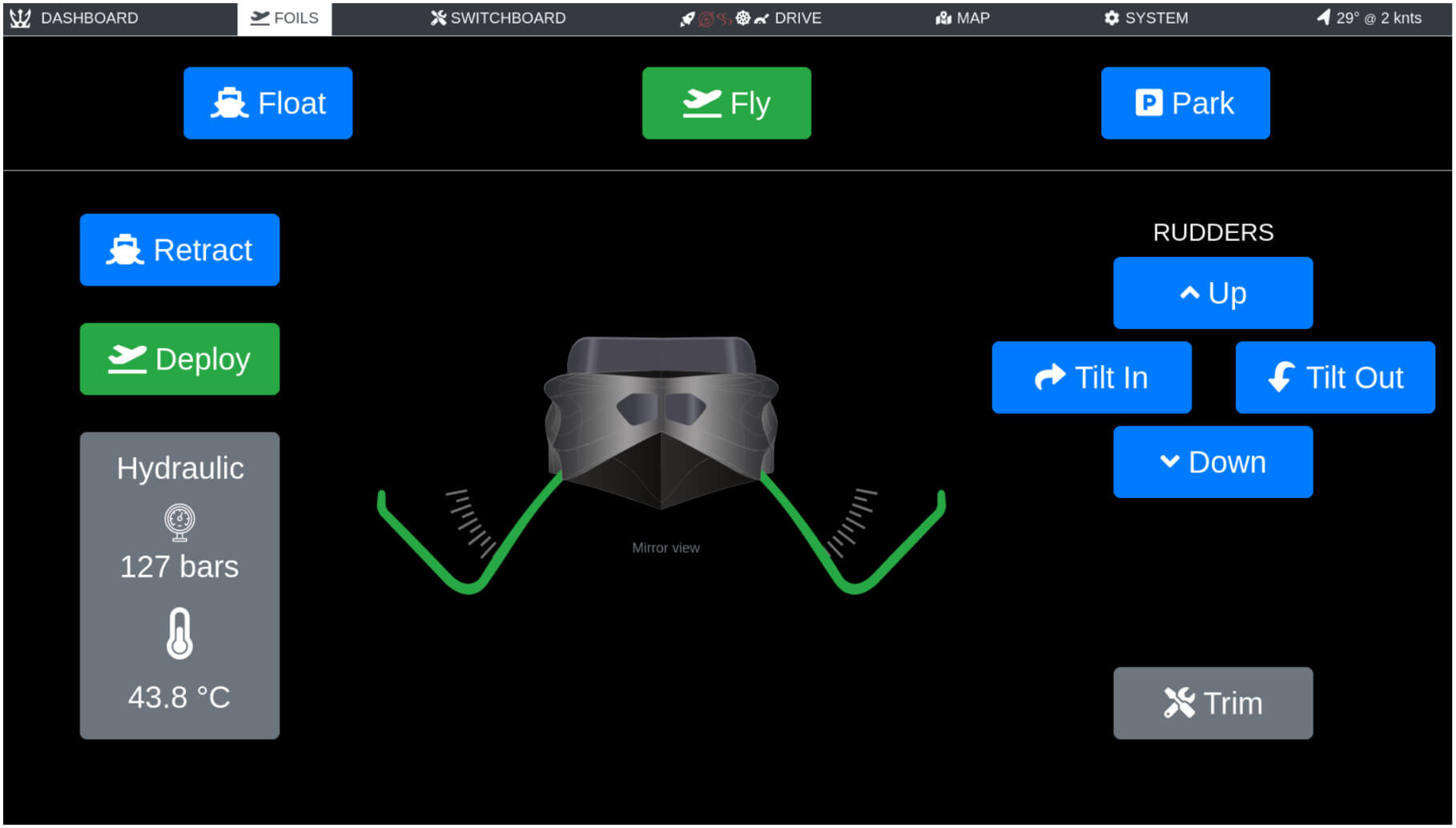 FOILS
The Foils tab is where you can control the foils. From here you can deploy them into Fly mode, retract them into Float (archimedean) mode, or retract them fully in its Park mode, all at the touch of a button. The front view gives a live display of the foils positions making it intuitive to use and understand.
Mobile Friendly
Thanks to the Wingman software, you are able to monitor and control the Foiler from your smartphone. Simply scan the QR code from the dashboard and enjoy a mobile version of Wingman.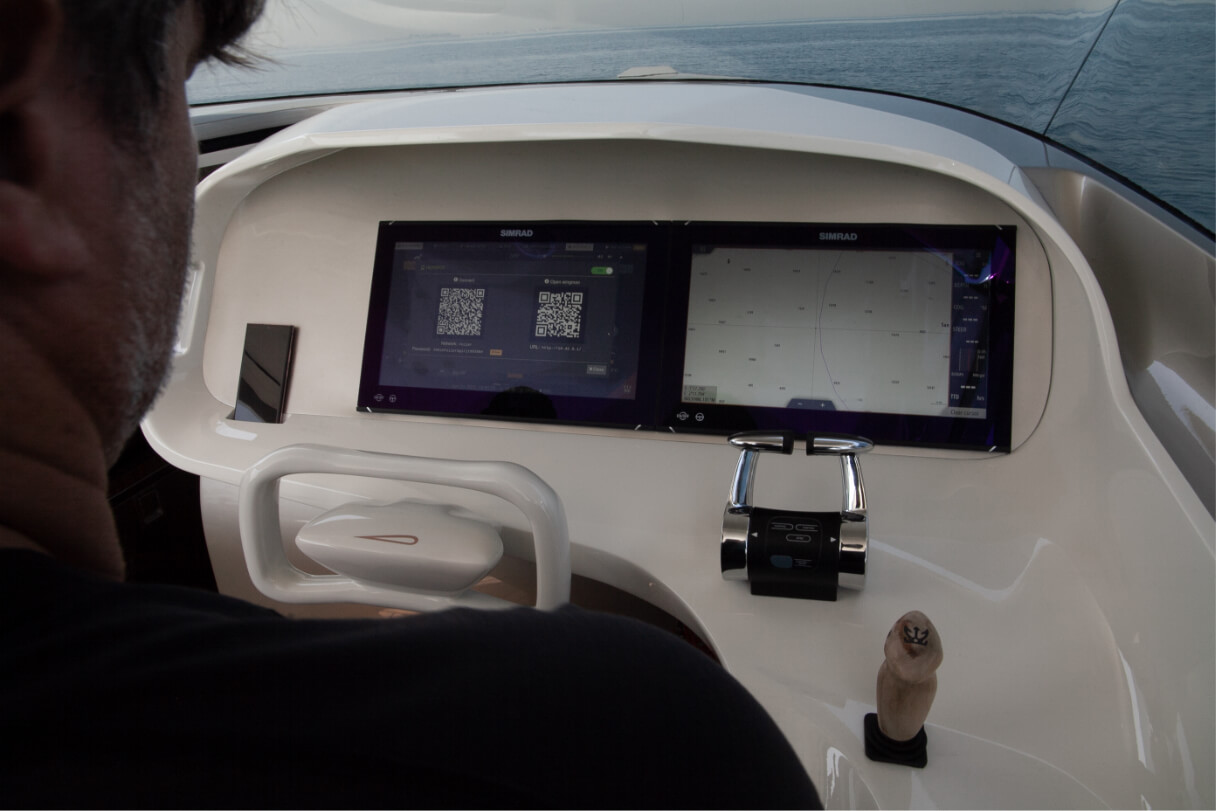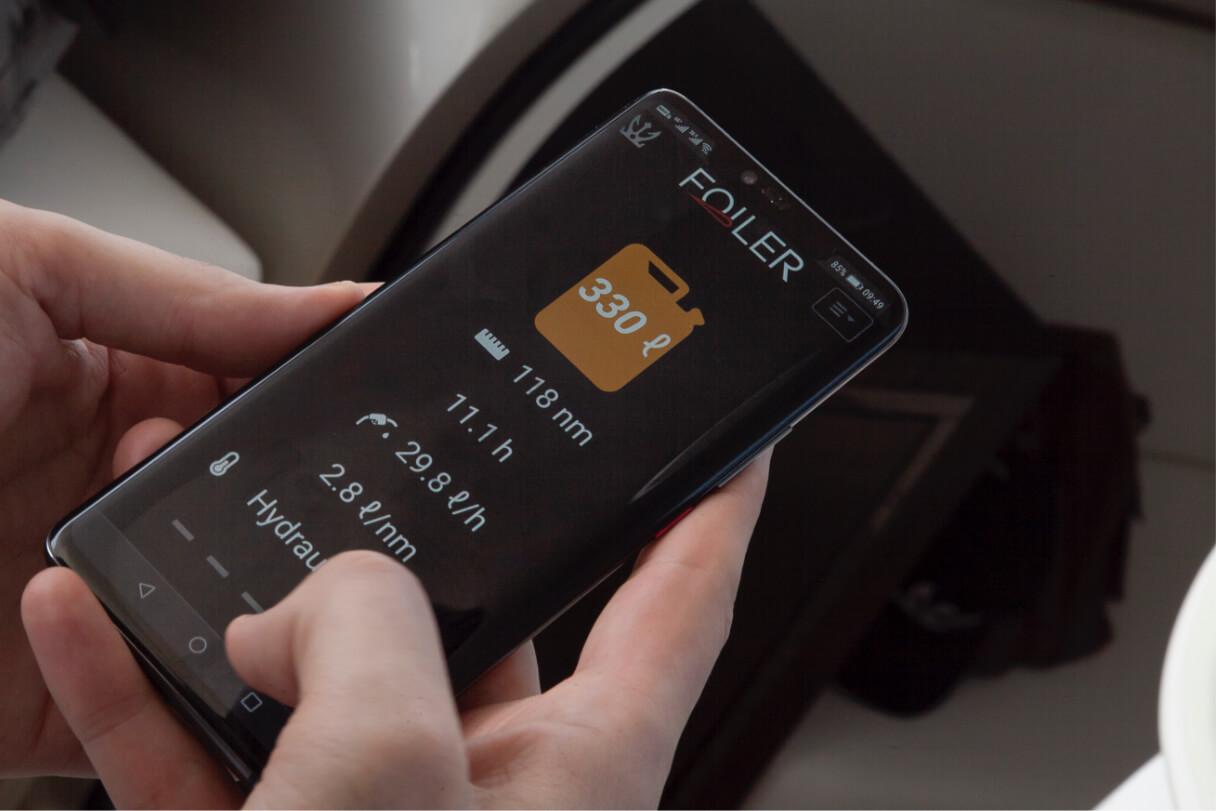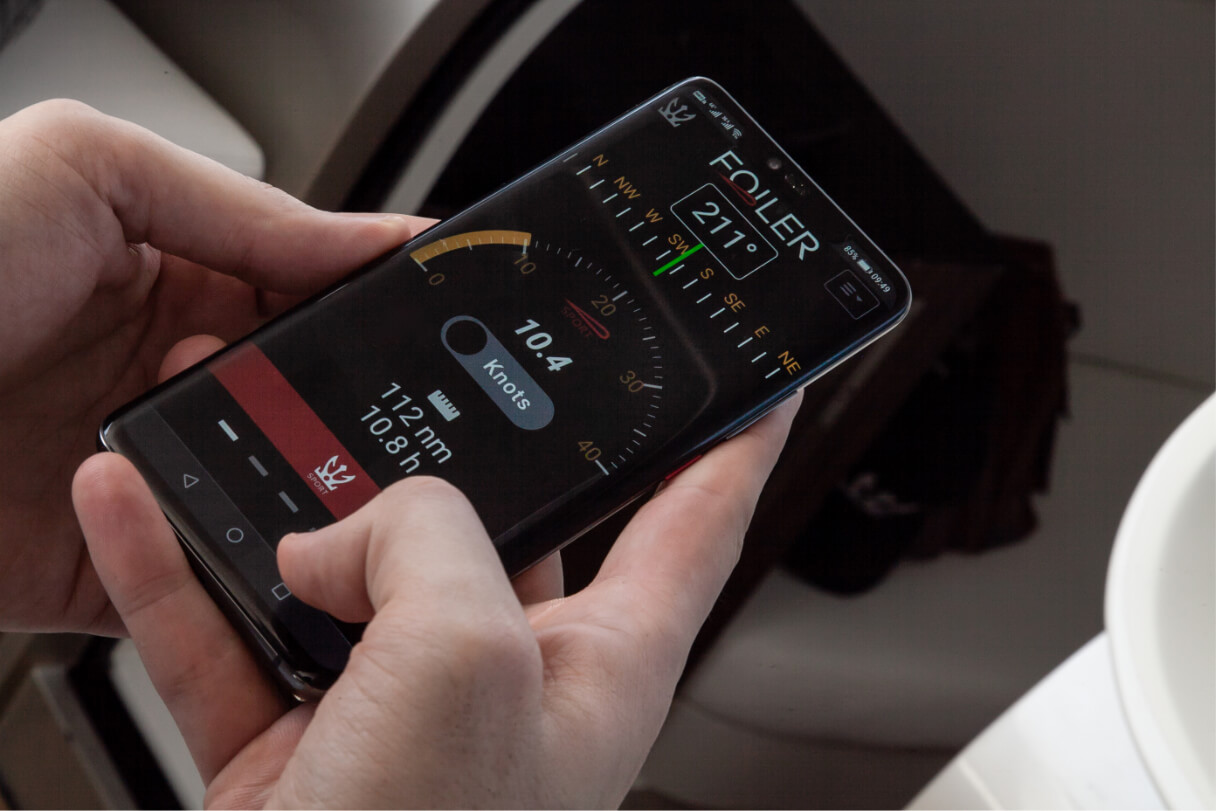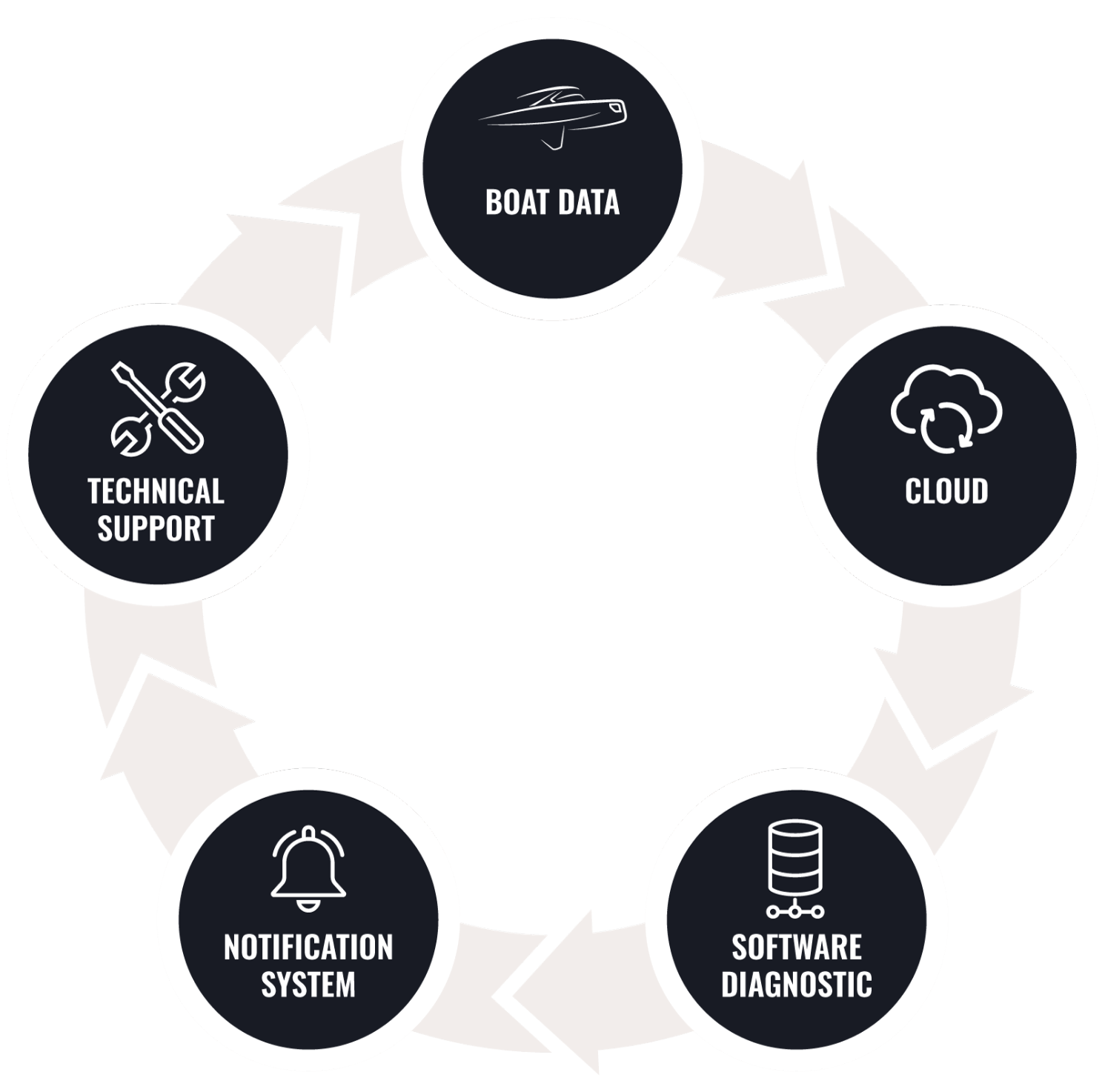 After Sale Service
Thanks to the Wingman's online connectivity, the owner will receive constant over the air updates for their Foiler. This will bring it new features and constant improvements such as increased fuel efficiency.

The numerous sensors onboard the Foiler all feed to the Wingman system, proving the owner with preventative maintenance, keeping their Foiler healthy while also keeping costs down.

If the user wishes, it can give access for Enata to monitor their Foiler from the could. From there, Enata can perform a more detailed healthy report, and even fix some potential issues over the air when a technician isn't necessary. The owner can even choose to share recordings of previous sessions if any errors occurred.
Micro-controller &
Data Analysis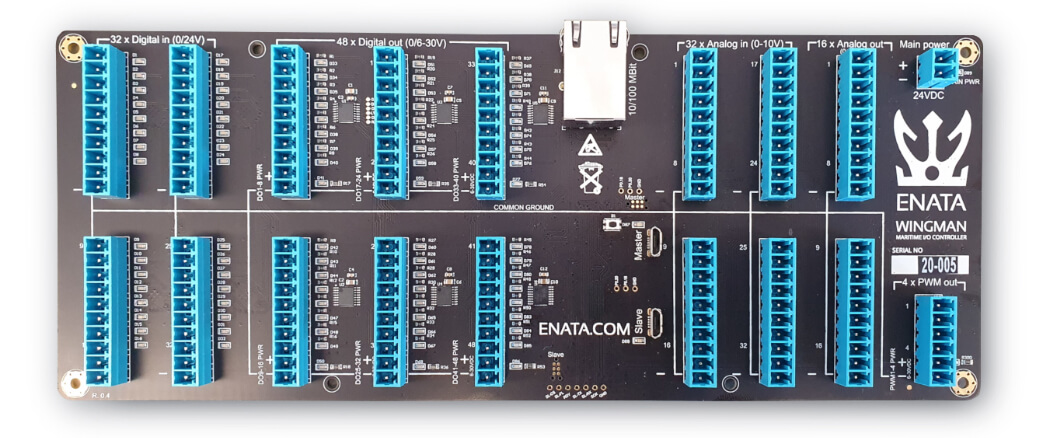 The Wingman's micro-controller has been fully designed in house by Enata for the Foiler. This small computer, around the side of two smartphones, is the brain of the Foiler, which replaces what used to be an entire table full of electronics, PLCs, and computers. This not only lowers costs, but also makes it much simpler, more efficient, and reliable.

The Foiler has over 250 sensors monitoring everything from pressure on the foils, to foil positioning, fuel consumption, and CO2 emissions.
All this information is relayed to the Wingman software at a rate of 20Hz and communicated to the user through the console touch screen or a smartphone.

This data provides an incredible amount of information that is analyzed for the best customer experience. This allows us to further increase comfort, reduce fuel consumption, provide preventative maintenance, and give Enata the opportunity to update and upgrade your Foiler through over the air updates.
Feel the urge to fly?
It isn't a dream anymore. For the new generation
of sailors, we are building your FOILER.